For Fat/Phat Tuesday, we celebrated both Valentine's Day and Mardi Gras through Café decorations, drinks, and desserts. We also had a guest speaker - our very own Lauren Lillquist!
She began by talking about family, and how we are largely influenced by the people we grew up around and who raised us. After seeing a clip from the movie
Coco
and after the retreat this past weekend, there was a recurring theme of family and its importance in our lives.
We then read from John 7, and discussed how family played an important role to the Israelites of the 1st century, too.
John 7:37-44 (NIV)
37 On the last and greatest day of the festival, Jesus stood and said in a loud voice,

"Let anyone who is thirsty come to me and drink.

38 Whoever believes in me, as Scripture has said, rivers of living water will flow from within them." 39 By this he meant the Spirit, whom those who believed in him were later to receive. Up to that time the Spirit had not been given, since Jesus had not yet been glorified. 40 On hearing his words, some of the people said, "Surely this man is the Prophet." 41 Others said, "He is the Messiah."

Still others asked, "How can the Messiah come from Galilee?

42 Does not Scripture say that the Messiah will come from David's descendants and from Bethlehem, the town where David lived?" 43 Thus the people were divided because of Jesus. 44 Some wanted to seize him, but no one laid a hand on him.
The scripture starts by mentioning a festival - the Feast of the Tabernacles - which was an 8-day celebration that the Israelites observed in order to remember the great exodus. This festival was meant for remembering their ancestors who were part of the great exodus, as well as remembering how God led them out of Egypt and eventually into the promised land.
For the Israelites, family & lineage meant everything. They saw it as a way that they could look to the past and see how God had provided for their ancestors, how God was currently present, and how He would continue to works through their families and their offspring. So when they heard Jesus speak, they understood that he was special.... but there was some confusion - they probably knew who he was (or at least recognized him), and they knew he came from Galilee and from Mary & Joseph. They expected their Messiah to come from a great family line, maybe of royalty or at least of good social standing. But here was Jesus - a carpenter from Nazareth.
The second discussion was a time to analyze this painting: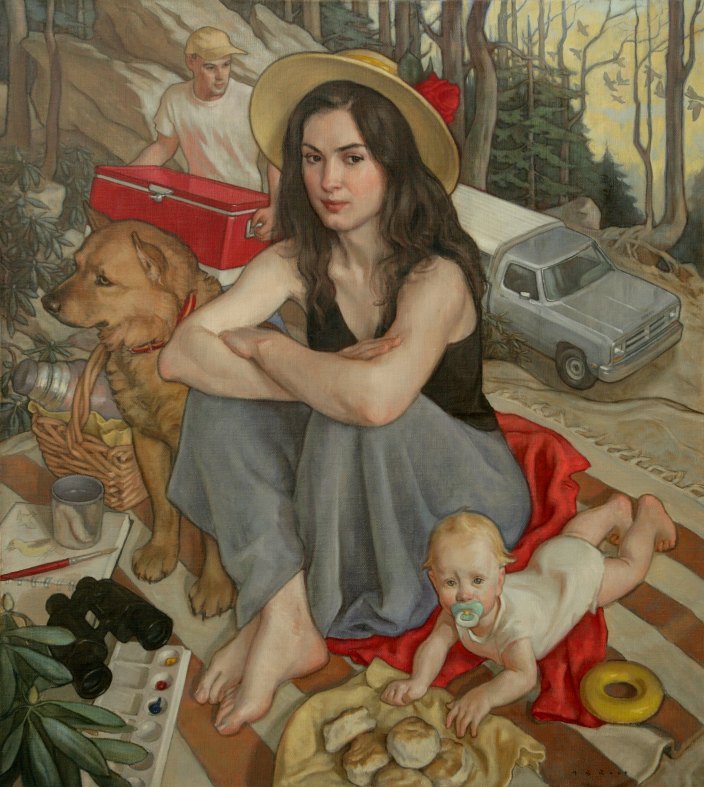 This painting, done by Tom Root, is called "Flight to Egypt" and is meant to be a modern-day interpretation of how Jesus would've been raised, and how his family would've been perceived, culturally, as a part of East Tennessee-Appalachia... coming from a little podunk town that people don't expect much out of.
"The people were divided", but Jesus was trying to tell them "Anyone who is thirsty... whoever believes in me....come to me and drink." Everyone is welcome, and maybe if you're trying to scrutinize all the details you're missing the point. The ironic part of this story is that Jesus was born in Bethlehem and came from a great line (Luke 3:23-38), but people were unaware. Everyone at the festival was looking at the words of Jesus through a different perspective, and were missing the importance of who he was and what he was saying.